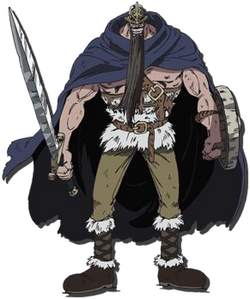 Dorry (ドリー, Dorī), also known as "Dorry the Blue Ogre" (青鬼のドリー, Ao-Oni no Dorī), is one of the two former captains of the Giant Warrior Pirates from Elbaph. It is from his pirate life that he earned a bounty of 100,000,000 Berries.
"."
—Dorry.
Appearance & Biography
Edit
Voice Actor: Bob Carter (English), Not Known (Japanese), Not Known (Italian), Not Known (Spanish), Not Known (German), Not Known (Finnish), Not Known (Korean), Not Known (French), Not Known (Latin American Spanish)
Biography
Edit
Appearance
Edit
Dorry is a well-built giant with a long beard. He generally dresses in a viking attire with a helmet that goes over his eyes. He is so large that Luffy can fit in the palm of his hand. He is 160 years old, which means that he is a giant in the prime of his life.
Hair Color: Not Known
Skin Color: Not Known
Eye Color: Black
Age: 158 (debut), 160 (after timeskip)
Birthday: October 2nd
Height: 1190 cm. (39'4)
Weight: Not Known
Attributes:
Edit
Background
Edit
Personality
Edit
Dorry is a good-natured giant, however, his pride can sometimes get the best of him. He is a firm believer of the customs of fighting from his homeland and follows them with much honor. He would follow these even if he were severely wounded.
Like many characters in Fairy One Piece Tail, Dorry has a unique laugh, starting his with "Gegya" (i.e. Gegyagyagyagya!).
Relationships
Edit
Friends/Allies
Edit
Abilities and Powers
Edit
Abilities
Edit
Physical Abilities
Edit
Strength level
Edit
Fighting Style
Edit
Miscellaneous Skills
Edit
Weaknesses
Edit
Equipment
Edit
Main article: Terry Sword
Dorry carried a Viking-style longsword named Terry Sword, which he used in fights against Broggy (before it was destroyed), and wielded a shield upon his arm.
Transportation
Edit
Non-Canon
Edit
Non-Canon
Edit
External links
Edit
Dorry One Piece Encyclopedia
Notes & Trivia
Edit